Yoko's Paper Cranes by Rosemary Wells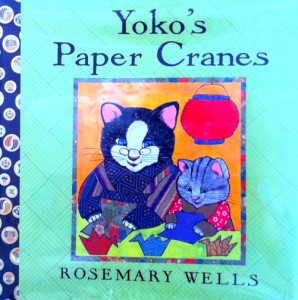 When Yoko was very young, she lived in Japan.  Her grandmother, Obaasan, showed her cranes in the pond at the end of her garden, and explained how the cranes left during the winter, but returned each year.  Yoko's grandfather, Ojiisan, could fold paper into cranes – and frogs, and many other animals.  Ojiisan taught Yoko how to fold paper cranes.
When Yoko was a little older, she left Japan with her parents, and moved to America.  The family stayed in touch and sent letters across the ocean to each other every week.
Yoko wanted to give Obaasan a birthday gift, but didn't have any money for a present.  Yoko remembered that Obaasan's garden would be cold and snowy, and that Obaasan would be waiting for the cranes to return.  Yoko's mother gave her some nice paper, and Yoko folded three cranes just as Ojiisan had taught her.  Yoko mailed the cranes to Obaasan in Japan.  Obaasan and Ojiisan hung Yoko's cranes in the kitchen window.  Yoko had made the perfect gift.
This is a sweet story of families, and of connecting even across an ocean.
Art activity:  try folding a few origami animals with your children.  These aren't as tricky as paper cranes.