Flora's Very Windy Day by Jeanne Birdsall, illustrated by Matt Phelan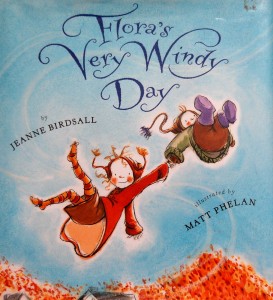 Flora got upset when her little brother, Crispin, knocked over her paints, again.  Their mother sent them outside to play.
Flora protested, saying that the wind was so strong it would blow her away.  Then Flora said:  "Of course, I could wear my super-special heavy-duty red boots.  They'll keep me from being blown away."
They bundled up, and Flora put on her special red boots. Crispin had only regular purple boots that "couldn't do anything but keep his feet dry."
The wind blew, but Flora laughed at it and told it that she was wearing her special red boots so it couldn't blow her away.  The wind blew harder, but Flora laughed at it.
"However," said Flora, "you may notice that my little brother is wearing regular old purple boots."
So the wind blew harder still, and lifted Crispin off the ground.  Flora realized that her little brother was being blown away.  She kicked off her special red boots, and went sailing up after Crispin, and held on to his hand as they were blown away together.  They were frightened at first, but soon realized that the wind was comfortable, like "riding along on a squishy flying chair."
Several different things approached Flora, asking her to give them Crispin:  a dragonfly, a sparrow, a rainbow, a cloud, an eagle, and the man in the moon.  Each time, Flora said no, "He's my brother and I'm taking him home."
Finally Flora asked the wind to let them go home.  The wind replied it would as soon as it found the right spot for Crispin, since Flora wanted to get rid of him.  Flora realized that she didn't really want Crispin to go away, and the wind took them home.
There likely are times in the lives of most young older siblings when they wish (even briefly) that they didn't have a younger sibling.  Underneath that momentary frustration, they really don't wish any harm to the toddler or baby…..it's just hard to remember when paints are knocked over, favorite stuffed animals are being chewed on, or a grown-up is busy with baby.  This is a very sweet book showing a big sister who realizes that she really does love her brother.