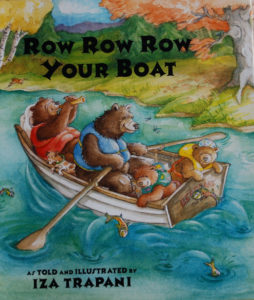 Songs like Row, Row, Row Your Boat, the ABC song, and The Itsy Bitsy Spider are among the first songs th
at young children learn.  When my son was turning two, he loved all forms of music and rhythms.  This was one of his favorite books - perhaps because he could sing along with it.
Row Row Row Your Boat as told and illustrated by Iza Trapani follows a bear family as they spend a day on a river.  It starts with a peaceful scene of mother, father, and two cubs - all wearing life vests - in a rowboat on a river with trees, fields, and wildlife nearby.  The book starts with the traditional first verse to the song, and adds many new verses as it follows the bear family's progress down the river and through the day.  The bear family has a few mini adventures - dropping oars, rapids in the river, and a beaver dam that necessitates portaging the boat through the woods.
When a storm comes, with wind that blows heavy rain at an angle and lightening that flashes in the distance, the bear family finds a cozy cave-like place to wait out the storm:
Row row row your boat

Find a place that's dry

Scurry, scuttle, hide and huddle

Til the storm blows by.
Trapani's cheery watercolor illustrations convey the situations and mood well - sometimes adding humor to the story.  One of my son's favorite pages shows the family with a picnic snack.  One of the cubs is feeding cookies to a large, friendly moose.  That always sent my son into fits of giggles and "uh ohs!"  Beavers, mice, a rabbit, ducks, and even a fawn are enjoying the food as the surprised parent bears walk toward the picnic spot from the boat.
The story ends on a happy note with the bear family rowing back home as the sun sets and the woodland animals look on.  Trapani includes the musical score and the nine verses at the end - very handy for those with musical talents.  This is a fun book to share and sing with young children.