Stopping by Woods on a Snowy Evening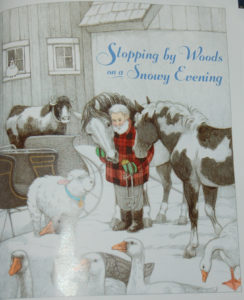 Stopping by Woods on a Snowy Evening by Robert Frost, illustrated by Susan Jeffers
In this wonderful book, Jeffers' illustrations beautifully accompany Frost's winter poem.  Jeffers shows a man on a horse-drawn sleigh traveling through snowy woods.
The man stops to leave food (seeds, grasses, and branches) for the forest animals.  The man also makes a snow angel and enjoys the peaceful woods and falling snow.  His horse watches him while they are stopped in the woods, paired well with the lines from Frost's poem.
My little horse must think it queer

To stop without a farmhouse near

Between the woods and frozen lake

The darkest evening of the year

He gives his harness bells a shake

to ask if there is some mistake
Although the man enjoys the peaceful woods and falling snow, he "has promises to keep, and miles to go before I sleep."  He must leave the woods and travel on to his home and family (who are pictured greeting him warmly outside a farmhouse).
This is a lovely interpretation of Frost's poem.  I recommend sharing it with family on a winter evening in front of a fire.
Frost wrote this poem while living in Shaftsbury, Vermont in 1922.  It was published in 1923 in a book of poems titled New Hampshire, which earned a Pulitzer Prize.