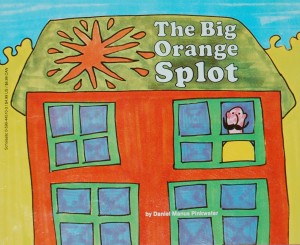 What happens when a seagull carrying a can of bright orange paint flies over very neat and orderly street and drops the can of paint on someone's house?
The Big Orange Splot by Daniel Manus Pinkwater can be simply a fun picture book, or it could have a few messages about expressing yourself and following your dreams - all with a dose of typical Pinkwater humor.
When the seagull dropped the orange paint on Mr. Plumbean's house, he agreed with his neighbors that, yes, he would need to paint his house now.  But he didn't paint it right away.  The neighbors got annoyed and asked him to paint his house.  Because, of course, the street was a very nice, neat street with houses that were all the same.
One night (because it was cooler) Mr. Plumbean started painting his house.  He used many different colors and painted patterns and designs on the house, incorporating the big orange splot on the roof.
The neighbors said he was crazy.  They decided to "pretend not to notice."
Mr. Plumbean built a tower on his roof and painted a clock on it.  He bought lots of plants - palm trees, baobabs and others - and added a hammock and alligator.  Mr. Plumbean happily swung in his hammock in front of his colorful house.
"My house is me and I am it.  My house is where I like to be and it looks like all my dreams," Mr. Plumbean said."
The neighbors asked the man next door to Mr. Plumbean to talk with him.  The man next door sat with Mr. Plumbean talking all night.  Then, the man got some lumber and paint of his own - and turned his house into a red and yellow ship.
The neighbors began visiting Mr. Plumbean and talking with him.  Whenever a neighbor visited Mr. Plumbean, "the very next day that person would set about changing his own house to fit his dreams."
Eventually all the houses on the street changed to reflect their owner's dreams.
Done with humor, and brightly illustrated, this is a fun book to share with children.  What would your house look like?