The Magic Rabbit by Annette LeBlanc Cate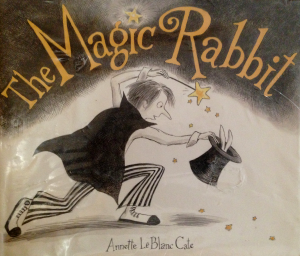 "Ray and Bunny lived together in a tiny apartment in the city.  They were business partners.  Ray was a magician, and Bunny was his loyal assistant.
They were also best friends.  They did everything together."
So begins a fun story about two friends and a little magic.
Each Saturday Ray the magician and Bunny, the rabbit, performed a magic show outside in the downtown area.  One day, things were pretty crowded downtown.  As Ray said the magic word (Abracadabra), and Bunny was getting ready to leap out of the magic hat in a shower of glittering stars, a juggler on a unicycle crashed into them.  Bunny was tossed from the hat, and chased away by a dog.
Ray looked for Bunny.  And, Bunny looked for Ray.  Bunny found a park, and even little bits of pretzel to nibble on.  But, Bunny couldn't find Ray.  When it got dark, Bunny really wished he and Ray were together at home.
Bunny hopped down a dark alley to rest and discovered some popcorn….and some glittering stars from their magic show.  Bunny was able to find more glittering stars – and a trail of stars that led him back to Ray.
This is a sweet story of friendship, shown from the bunny's point of view.