The Old Woman Who Named Things
The Old Woman Who Named Things by Cynthia Rylant, illustrated by Kathryn Brown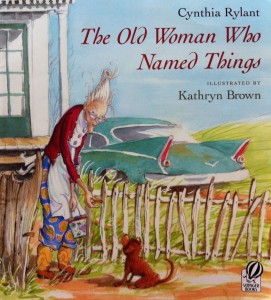 There was a time in my family's reading history when we had books by Cynthia Rylant in every room, all of the time.  Henry and Mudge books.  Mr. Putter and Tabby Books.  The Cobble Street Cousins. Gooseberry Park.  The Blue Hill Meadows.  And this one, The Old Woman Who Named Things.
An old woman lived by herself in a house she named Franklin.  She named her car Betsy.  She even named her favorite chair, and her bed (Fred and Roxanne).  She hoped to get a letter from someone, but she only received bills in the mail.  She was alone, but was making the best of it.
The old woman was alone because:
"…she had outlived every single one of her friends.  This worried her.  She didn't like the idea of being a lonely old woman without any friends, without anyone whom she could call by name."
So she named the things around her — but only the very sturdy things that would last a long time, "only those things she knew she could never outlive."
One day a shy brown puppy came to the old woman's house.  It looked hungry.  It wagged its tail.  The old woman watched the puppy for a little while, then she gave it some food and told it to go home.  The puppy left.  But, it was back the next day.
The old woman thought it was a very nice puppy, but she couldn't keep it.
"If it stayed, she would have to give it a name.  She might outlive it.  And she didn't want to risk that.  She didn't want to outlive any more friends.  She would just keep telling it to go home."
Every day for months the puppy visited the old woman.  She fed it and told it to go home.  Soon, it wasn't a puppy anymore, it was a dog.
One day the dog did not come to the old woman's house.  She watched for it all day, but it didn't come.  The dog did not come the next day, either.  The old woman got worried, and went to look for the dog.  When the dog did not come on the third day, the old woman called the dogcatcher, and found that he had several brown dogs there.
When the old woman got to the dogcatcher's kennel, she told him she had come to get her dog.  When he asked the dog's name, the old woman thought for a little while.
"She thought of all the old, dear friends with names whom she had outlived….and she thought how lucky she had been to have known these friends.  She thought what a lucky old woman she was."
And, she told the dogcatcher that her dog's name was Lucky.  When she called to the dog, he ran to her – and they went home together.
This is a good story about friendship, and love.  And, that love and companionship bring such joy and fullness to life – well worth the risk of outliving someone you love.  Like all of Cynthia Rylant's books, this is well-suited for children – young readers will cheer for the old woman and the dog who end up living happily together in a house named Franklin.