There Are Cats In This Book
There Are Cats In This Book by Viviane Schwarz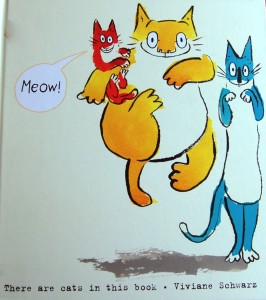 This is a wonderfully engaging, fun, lift-different-parts-of-the-page kind of book.  Yes, there are cats in the book.  Three cats talk to the reader, saying hello, asking for help turning a page, and getting excited when they see balls of yarn.
We meet the three cats when they are sleeping under a blanket.  Turning the blanket (as you would a page), then each cat, wakes the cats, who then greet the reader.  The cats have friendly, and excitable attitudes.  Now that they are awake, they want to play.
"Hello.  Who are YOU?

Are you NICE?

You look nice.

And STRONG.  Could you turn a whole PAGE?

Because there's YARN on the next page.  LOOK!"
The three cats take turns talking with the reader – all are friendly.
"HOORAY!  You Do turn pages!

Lovely tangly yarn.

There's MORE!  Quick, turn another page!"
The cats play in the yarn, with a little help from the reader.  As the book moves on, one cat asks the reader to go back to the yarn, but another cat sees something fun ahead.
"NO!  Keep going THIS way.  Look!  There are CARDBOARD BOXES!"
The cats have fun playing in the cardboard boxes.  They move on to pillows, and a pillow fight.  One cat spots fish, and they urge the reader to turn the page…..into a flood of water and fish.  After the reader turns pages to get the cats out of the water, the cats ask the reader to dry them off, by blowing on the page.
"Mmm.  I feel fluffy.

I KNEW you were nice."
The book ends with the cats feeling sleepy, and asking to be tucked in with their comfy blanket.  They invite the reader to come back and play with them again soon.
My daughter and I both loved this book.  There is something about the cats and their excitement over yarn and joy in seeing cardboard boxes that just makes me want to read it again.  I can see this being a favorite with toddlers and preschoolers who will want to help the cats by turning the pages.