Toys Go Out by Emily Jenkins, illustrated by Paul O. Zelinsky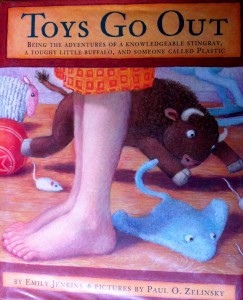 According to the subtitle, this book is "…the adventures of a knowledgeable stingray, a toughy little buffalo, and someone called Plastic."
The three main characters, StingRay, Lumphy, and Plastic, are toys who live in a house with the Little Girl and her parents.  When the family is asleep or away, StingRay, Lumphy, and Plastic roam the house, play with the other toys in the girl's bedroom, and visit TukTuk the towel in the bathroom.  And, they have adventures – with the Little Girl, and just with each other.
The book begins with StingRay, Lumphy, and Plastic inside a dark backpack that swings and bumps them.  Their personalities emerge as they wonder what is happening, and where they are going.  StingRay likes everyone to think she is wise – and explains things even if she doesn't know what she is talking about.  For instance, StingRay suggests they are being thrown away, and taken to the dump where there are garbage-eating sharks.  When the backpack stops moving, the Little Girl reaches in and pulls them out and announces that these are her best friends.  She has brought them to school for show and tell.  (In later chapters, when StingRay tries to explain things, she often adds that she has been to school.)
I wasn't sure how I would feel about talking toys, and a story told from toys' point of view.  But, this works – in a fun way.  The toys are childlike in their limited knowledge of the world and their curiosity.  They also have very human character flaws.  Each is likeable – but Lumphy is my favorite.
Lumphy gets into a sticky mess while on a picnic with the Little Girl and her father.  It involves lots of peanut butter on buffalo fur.  The Little Girl says Lumphy needs to be washed.  Lumphy is afraid of the washing machine – it is in the basement which StingRay has described in a frightening way, and TukTuk the towel has said that the machine spins you around in a dizzying way – so he crawls into the closet and hides in a shoe.  Many days later, he hears the Little Girl crying and creeps out to see why.  When he discovers she misses him and thinks he's gone forever, he thinks about the girl and about the washing machine…and the girl….and the washing machine.  He decides on the girl, and lets himself be found even though it means facing the washing machine.
Lumphy discovers that the washing machine is called Frank, that he is friendly and lonely, and that he can sing.  When Frank starts the wash cycle, Lumphy feels frightened and motion sick.  Franks explains that he has to continue the wash cycle, and suggests Lumphy think of it as a dance, and sings to Lumphy.
"Shuffle-o

Shuffle-o

Greasy little

Buffalo

Tough-y little buffle-y

Dance that buffalo shuffle with me!

Dance, dance, prance, prance

Dance that buffalo shuffle with me!"
Lumphy sings along, and ends up enjoying his time with Frank the washing machine.  Later, he thinks of ways to get himself sticky again so he can visit Frank more often.
This has become a favorite in our house.  In fact, I even encouraged young people who were out of bed (again) to get back into bed and go to sleep by singing: "Shuffle-o buffalo, sleepy little buffalo, back into bed you go…"
This is a chapter book (6 chapters) with black and white illustrations here and there.  It is best for younger chapter book readers, and works well as a read aloud, too.
There are two other books in this series:  Toy Dance Party, and Toys Come Home.