Unspoken, A Story from the Underground Railroad, by Henry Cole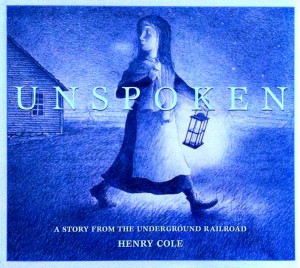 In this powerful, wordless picture book, Cole tells the story of a young farm girl in the South around the time of the Civil War.
The girl goes about her daily chores around the farm.  While collecting vegetables from a storage area, the girl hears something and sees an eye looking at her through a bundle of corn stalks in a corner.  The girl is frightened, and runs.
But, you can see she is thinking about what she saw, and what it means.  The girl worries through dinner.  Then, she makes up her mind and takes some food out to the storage building, glancing around to make sure nobody is watching.  The girl sets the food, on a checkered cloth, in front of the bundle of corn stalks, and smiles.  She has made her choice.  She will hide and feed the runaway slave.  The adults around her do not know what she is doing.
The girl brings food several more times, always in a checkered cloth.  One day, bounty hunters come to the farm with a poster.  The words, "WANTED, ESCAPED, and REWARD" stand out on the poster (these are the only words in the book).  The girl looks on, hidden, as the men talk with her family.  The hidden runaway slave sees the bounty hunters, too.
Later, when the girl brings food, she finds that the bundle of corn stalks is empty.  The person she helped has moved on….but left her a gift – a corn husk doll wearing a dress made of checkered cloth.
In a two-page author's note at the end of the book, Cole tells of his family, where he grew up in Virginia, and of connections to the Civil War.  He also gives a brief description of the underground railroad and of following the North Star to freedom.  Cole states:
"But I didn't want this story to tell of battles…I wanted to tell – or show – the courage of everyday people who were brave in quiet ways."
This is a good way to introduce children to the concepts of slavery, and the underground railroad – and to the brave and compassionate people who helped those following the North Star to freedom.