A Kitten Tale, by Eric Rohmann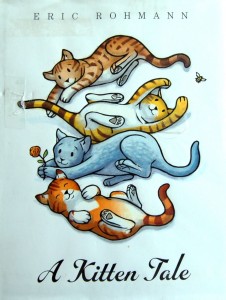 Once upon a time there were four kittens.  They heard that winter would come, and that snow would come too.  Three of the kittens were worried – what was this snow like?  Would they be OK if cold, wet snow comes and covers everything?
The fourth kitten is excited, and says, "I can't wait!" whenever the kittens talk about snow.
The kittens go through spring into summer and then fall.  Three kittens worry about the coming winter and the snow that is cold and wet and covers everything.  The fourth kitten, who seems more curious than the others – shown in illustrations watching bugs, pouncing on a frog, and rolling in autumn leaves – is excited about snow coming.
One morning the kittens find that the snow has come – everything outside is covered in white.  Three kittens hide under a rug or a table.  The fourth kitten races out through the cat door and plays in the snow.  When the other three see the fourth kitten playing and having a good time in the snow, they run out to play too.
This is a story about fear of the unknown, curiousity, and doing something new.  Rohmann's illustrations are simple and fun, bringing the text to life.  Rohmann has won a Caldecott Honor Award, and a Caldecott Medal.