An Undone Fairy Tale, by Ian Lendler, illustrated by Whitney Martin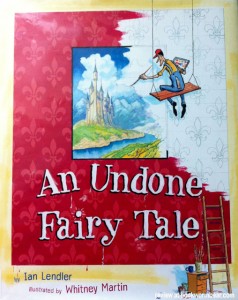 First, let me say that my daughter loves this book.  There is something about the illustrations, and the book not being ready yet, and the resourcefulness of those trying to get the book ready for the reader.  Well….this one is bound to leave readers in giggles.
What if a reader is too speedy?  What if the book isn't quite ready yet, but the reader keeps turning the pages anyway?
This book begins like a classic fairy tale with a princess (who bakes the most delicious pies in the kingdom) locked in a tower by her stepfather, the king, and forced to bake pies every day.
Brave knights try to rescue her, but the king makes the knights perform three dangerous tasks – and all who try fail.  Until one day, Sir Wilbur (very brave and famous) arrives to take on the challenges.
At this point, we notice that the book isn't quite finished yet.  There is a new character, Ned, who is painting the pictures and making the costumes for the book….and he isn't done yet.  A man in a bow tie asks the reader to please slow down.
"Sorry to interrupt again, but you're still reading very fast.  Please don't turn the page.  Ned doesn't have the horses or armor yet."
As the reader continues, Ned hurries to find handy things to replace the things he doesn't have ready.  For instance,the knights end up riding fish instead of horses, and wearing tutus instead of armor.
 "Now, Ned and I admire how well you read.  But the story will be ruined if you turn the page right now.  So please don't."
Most preschoolers or young readers will want to turn the page and see what happens next, and what Ned is going to do about not being ready.
Since the dragon is still in the shower, Ned replaces the dragon with a pretzel.  The knights in tutus riding fish do battle with the pretzel.  The story continues with a dog replacing a sea monster, and a huge pie delivered to the king – with Sir Wilbur hidden inside it.
When Sir Wilbur falls through the unfinished floor of the princess' tower, the princess decides to rescue herself (and Sir Wilbur).  With monkeys dressed as knights, riding a snail, and waving a banana (Ned ran out of swords), the princess leaves a forest of crayons and successfully rescues Sir Wilbur.  Ned gives up, and the man with the bow tie ends up finishing the illustrations.
A silly take on fairy tales and books – good for giggles.