Because of Winn-Dixie by Kate DiCamillo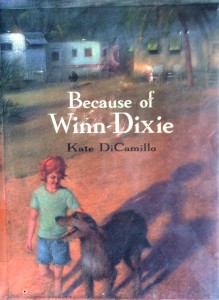 "My name is India Opal Buloni, and last summer my daddy, the preacher, sent me to the store for a box of macaroni-and-cheese, some white rice, and two tomatoes and I came back with a dog."
So begins this compelling middle grade novel by Kate DiCamillo.
Opal, the main character, has just moved to a new town with her father.  She is lonely.  Her mother left when Opal was very young, and Opal's father, whom she calls 'the preacher,' is occupied with his sermons and his church.  Opal's father cares about her, and knows she is lonely, but he still misses her mother and retreats inside himself on occasion.
So, on that day when Opal goes to the grocery store and finds a stray dog wrecking havoc running around the store, she names him Winn-Dixie and takes him home to save him from the dog pound.  Opal's father, the preacher, allows her to keep Winn-Dixie even though he says they don't need a dog.
"I found a dog," I told him. "And I want to keep him."

"No dogs," the preacher said.  "We've talked about this before.  You don't need a dog."

"I know it," I said.  "I know I don't need a dog.  But this dog needs me."
Winn-Dixie, has a way of smiling at people, and seems to sense moods.  He listens quietly while Opal tells him things she is thinking about and worrying about.  After talking with Winn-Dixie, Opal feels brave enough to ask her father to tell her ten things about her mother – one thing for each year she has been alive.  Opal thinks about her mother a great deal, and mentally collects stories she would like to tell her mother if they ever meet again.
Winn-Dixie helps Opal meet people in town, and make new friends.  Opal and Winn-Dixie become friends with the librarian, who tells her interesting stories about the town and its past; with an old woman who is going blind, who some children call a witch, and who makes wonderful peanut butter sandwiches; with a man who works in the pet store who likes to play his guitar to the animals and was once in jail; with a girl Opal dislikes at first, then begins to like after Opal learns the girl's little brother died the year before; and with some boys who seem mean and tease her at first.
Because of Winn-Dixie, Opal is happier and less lonely.  And, Opal grows and makes new friends.
This is a book for readers ages 8-12 who can handle the themes of a mother leaving a child, and a lonely child finding a companionship and a place for herself in a new town.