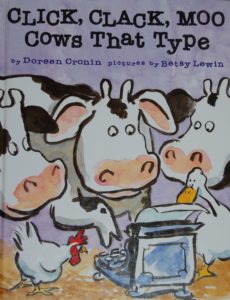 November is Picture Book Month (http://picturebookmonth.com/calendar/).  What a great idea to celebrate the first connection to books most children have - and don't we all remember a few favorites even as adults?
Tuesday was a farm theme day in the Picture Book Month calendar.  One of my favorite farm-themed picture books is Click Clack Moo Cows That Type by Doreen Cronin with
pictures by Betsy Lewin.
The book begins with Farmer Brown, who has a problem:  his dairy cows type on an old typewriter they found in the barn.  Then, the cows leave him a polite note asking for electric blankets.  When the farmer says no, things get interesting.  The cows and hens go on strike, leaving a new note that says:  "Closed.  No milk.  No Eggs."
The story continues with more notes, and the involvement of a duck.  It ends with the cows and hens sleeping under electric blankets, and the ducks asking for a diving board.
The bold, colorful illustrations and the silly text - including the repeating "Click, clack, moo" - will hold young children's attention, and leave everyone giggling.
Two paws up.