Everything but the Horse, A childhood Memory by Holly Hobbie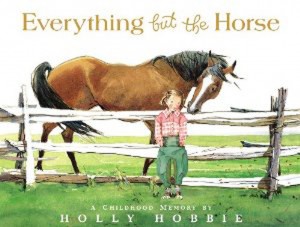 When Holly Hobbie was a young girl, her family lived in a city neighborhood packed with children, pets, and grown-ups.  The houses were close together.  Holly Hobbie's family lived on the third floor of one of the buildings.  She loved living there.
Then one day, her parents bought an old farm out in the country.  It was a little run-down, but the family would fix it up.  Holly Hobbie did not like it.  In fact, she was frightened by many things there, like a fierce rooster, some cats who could not be petted, and a spooky outhouse.
However, things changed, and:
"Pretty soon, though, I fell in love with the woods and fields, with wildflowers and birds and country smells.  And the biggest excitement of my new life, the best part, was raising animals."
The family had a dog, some friendly cats, ducks, geese, chickens, a pig, and a cow.  But, they didn't have a horse.  Several families nearby had horses, and would ride past Holly Hobbie's family farm.  Holly Hobbie visited the horses in their pastures and became friendly with them.  She thought her family's farm had everything needed for a horse – pasture, barn with stalls, hay, even bridles and harnesses.  She thought about horses all of the time, scattered horse droppings in one of the stalls (so it would smell like a horse), and drew detailed pictures of horses.
"We had everything anybody needed to have a horse, and a horse was the one and only thing I wanted more than anything in the world."
But, everyone in her family had reasons for not getting a horse.
On her birthday, Holly Hobbie's mother told her to go look in the barn for a special present.  She ran out to the barn, hoping to see a horse.  Instead, she found a brand new, red, two-wheeler bike with a leather seat, and Columbia written on the crossbar.  She took her new bike out for a ride.
"And I flew down Middlebury Road, pumping with all my might.  I flew!

'I'll call you Beauty,' I shouted into the rushing air.  'Holly's Beauty.'"
This is a sweet story of childhood, with beautiful illustrations.  Somehow, the reader is not upset that Holly Hobbie is given a bike rather than a horse – and it seems that the author was happy with the bike, as well.
Holly Hobbie has worked as an artist for more than thirty years (remember the Holly Hobbie greeting cards and dolls in the late 1960s and 1970s?) and is the author of the Toot & Puddle picture books, and the Fanny & Annabelle books.