Reading Above Grade Level - Young Gifted Readers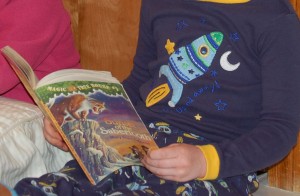 Sometimes children learn to read a little early.  Sometimes children read really well before they enter kindergarten.  This is wonderful, and exciting.  And, sometimes it is a little more difficult to find books for these really strong, young readers.
What books are interesting and written at a good level for advanced readers, and are appropriate emotionally, socially, and in general topic matter?
The books on this page are ones that my young, early (and sometimes very sensitive) readers have enjoyed. I've listed them here to help you find books that might work for your young reader, whatever age.  I will include links to books I've reviewed on Bookworm Bear, and will update the suggestions frequently.  I hope these books are ones that you and your young reader(s) will enjoy -- and will add to their love of reading!
Preschool and Kindergarten

Henry and Mudge books, Mr. Potter and Tabby books, The Lighthouse Family series, The Cobblestreet Cousins series, Gooseberry Park, The Blue Hill Meadows, and any other books by Cynthia Rylant are likely to be safe for young, sensitive readers.
Any book listed on Bookworm Bear's Beginning Reader page would be safe for sensitive early readers.  Strong, young readers likely will want to move beyond these and into chapter books fairly quickly.
Magic Tree House books (by Mary Pope Osborne) are good for young readers (the Merlin Missions later in the series seem written for slightly older readers than the ones at the beginning of the series).  Annie and Jack, the two main characters, always get back home safely from their adventures in the tree house.  It is easy to guess topics from the book titles - we avoided the books on the Titanic, Pompeii, and the Revolutionary and Civil Wars since I had some very early and very sensitive readers.  My daughter picked up on the treatment of Annie in Shakespeare's time (girls couldn't be on stage) and in the time of the Ancient Greeks (boys/men could do things that girls/women were forbidden to do).  This led to some good discussions of views of women over time, and what girls/women can do now.  My daughter also commented that Jack is the main character because we hear his thoughts.  Annie is a strong character - spunky, brave, and ready for adventure.
The Trumpet of Swan, Charlotte's Web, and Stuart Little - by E.B. White
The Cricket in Times Square by George Selden  (and others like Harry Cat's Pet Puppy, and Harry Kitten and Tucker Mouse)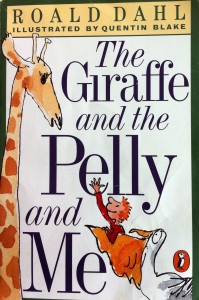 Charlie and the Chocolate Factory, James and the Giant Peach, and The Giraffe and the Pelly and Me by Roald Dahl
These Might Be Best For First Grade And Above
Half Magic, Seven-Day Magic, and others by Edgar Eager (a group of children discover some magic and have to figure out just how to use the magic - these were first published in the 1950s)
Five Children and It by E. Nesbit
The Hundred Dresses by Eleanor Estes
The Mouse and the Motorcycle by Beverly Cleary (and Runaway Ralph, and Ralph S. Mouse)
Mrs. Frisby and the Rats of NIMH by Robert C. O'Brien
Mr. Popper's Penguins by Richard Atwater
Toys Go Out, and Toy Dance Party by Emily Jenkins
Nutmeg and Tumtum books by Emily Bearn
Paddington books by Michael Bond
The Phantom Tollbooth by Norton Juster
Misty of Chincoteague by Marguerite Henry
My Father's Dragon by Ruth Stiles Gannett
Little House on Prairie series by Laura Ingalls Wilder.  (The first book, Little House in the Big Woods has information on killing animals, using their parts, and some of the books have older (late 1800's) attitudes toward Native Americans)  Our library has chapter books about Laura's mother and grandmother written in the same style, safe for young readers.
These Might Be Best For Slightly Older Advanced Readers - Early/Mid Elementary

All chapter books from the first categories.
Where the Mountains Meet the Moon, and Starry River of the Sky by Grace Lin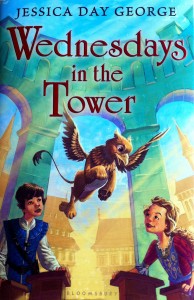 Tuesdays at the Castle, and Wednesdays in the Tower by Jessica Day George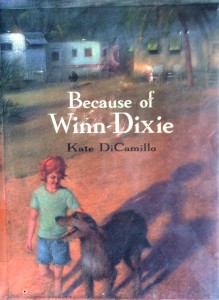 Because of Winn-Dixie, The Miraculous Journey of Edward Toulane, The Magician's Elephant, and The Tale of Despereaux by Kate DiCamillio
Mandy by Julie Andrews Edwards
The Phantom Tollbooth by Norton Juster
The Twenty-One Balloons by William Pene du Bois
Rascal by Sterling North
The Dragon of Lonely Island, and Return of the Dragon by Rebecca Rupp
Time Cat by Lloyd Alexander
Dealing with Dragons books by Patricia C. Wrede (princess runs off to live with the dragons - many exciting adventures with dragons and magic)
Howl's Moving Castle, and House of Many Ways by Diana Wynne Jones
First 3 Harry Potter books by J. K. Rowling (if not easily frightened by things they read - the books start getting darker (characters die) and introduce teenage themes like dating and kissing as the characters get older)  We love this series - my children have read all of the books now.  Games of quidditch have been played in our kitchen.  Wands and cloaks abound, things like imaginary flying broomsticks, spells, and magic classes happen rather often around here.
Anne of Green Gables by L. M. Montgomery
Caddie Woodlawn by Carol Ryrie Brink
Rebecca Of Sunnybrook Farm by Kate Douglas Wiggin
Alice in Wonderland by Lewis Carroll
The Mysterious Benedict Society books by Trenton Lee Stewart
Tuck Everlasting, and The Search for Delicious by Natalie Babbitt
My son soon outgrew the Youth section of our small town library.  He selectively reads YA books - and checks in with the librarian and with me for suggestions.
In general, some books are classified YA based on content, and some on reading difficulty.  I've seen Harry Potter in both Youth and YA sections.