Grandma Drove the Snowplow
Grandma Drove the Snowplow by Katie Clark, illustrated by Amy Huntington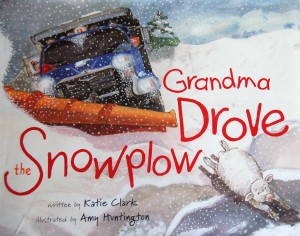 Billy and Grandma are baking cookies and listening to the radio in the kitchen on the day of the Carol Sing.  The radio brreeps in with an emergency broadcast warning of blizzard conditions and up to two feet of snow.
Grandma runs the snowplow business in their small town.  She tells Billy not to worry, that the plows are out doing their work.
"And for everyone in town there was no bigger winter celebration than the Carol Sing.  Starting the day after Thanksgiving people baked cookies, practiced songs, and knit pairs and pairs of mittens for the mitten tree.  They hadn't missed a Carol Sing for as long as anyone could remember."
The telephone rings and, after speaking for a minute, Grandma tells Billy that Buster is stuck in a snow bank and can't get the truck unstuck – so he can't plow the roads in time for the Carol Sing.
The telephone rings again, and Grandma tells Billy that Burt is stuck in a ditch and can't get his truck out – so he can't plow the roads either.
Grandma's other son and snowplow driver, Bill, has his leg in a cast – and can't drive to plow the roads either.
Billy hands Grandma the keys to a snowplow telling her they have a job to do, and they set off.  Grandma drives the snowplow, but not very carefully.  They help their neighbors out, and plow the streets in time for the Carol Sing.
But, by the time they arrive at the Carol Sing, the snowplow has picked up a wreath, some holiday lights, and an evergreen tree.  The townspeople use these to decorate for the Carol Sing – and put mittens on the tree.
This is a cute book with a touch of silliness mixed with a small town sense of community.  Amy Huntington's illustrations show a small town with New England character blanketed in snow – and complement the text well.  This is Grandma's second adventure – in Grandma Drove the Garbage Truck, Grandma and Billy collect the town's garbage in time for the Fourth of July Parade, running into a few things along the way and winning the prize for most creative float (available at Amazon).