Happy Birthday Dr. Seuss and Read Across America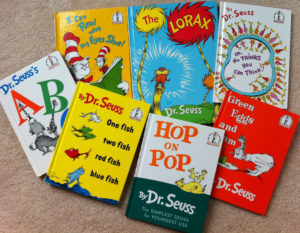 Today, March 2, is the anniversary of the birth of Theodor Seuss Geisel - Dr. Seuss.  Today also is Read Across America (http://www.seussville.com/Educators/educatorReadAcrossAmerica.php).  Folks in my town organized a day (they are guessing it may take 8 hours to read all the books) of reading books by Dr. Seuss.  The local event was the result of efforts by a kindergarten teacher, the library, and volunteer readers.  They had children's crafts, special snacks, and decorations based on illustrations from different books.  What a nice way to celebrate the birth of someone who contributed so much to children's literature, literacy, and imagination.
Geisel was born in 1904, and died in 1991.  His first children's book, To Think That I Saw it on Mulberry Street, was published in 1937.  The Cat in the Hat, his thirteenth book, was published in 1957.  The success of The Cat in the Hat "inspired Seuss, his wife Helen, and Phyllis Cerf to found Beginner Books, a division of Random House that would publish books designed to help children learn to read."*
Seuss' fantastical creatures and many, many stories continue to appeal to children (and their parents) today.  "Indeed, treating children with respect was key to Seuss's philosophy of writing for them," says a brief biography by Philip Nel.  And, once in an interview, Seuss lamented the way many children's authors are patronizing to children and said, "I, for some reason or another, don't do that. I treat the child as an equal."*
What is your favorite Dr. Seuss book?
* Biographical information taken from an online biography by Philip Nel (2010)  http://www.seussville.com/#/author