Learn To Read Treasure Hunts On Bookworm Bear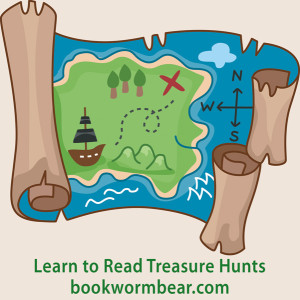 My young readers loved doing treasure hunts.  It was a fun way to practice new reading skills.  And, they enjoyed running from one clue to the next, deciphering the words and finding the next clue…and eventually the end.
Bookworm Bear is offering you printable treasure hunts clues to help the child (or children) in your life enjoy reading.  So far, there are 5 treasure hunts to try.  More are on the way.
Click on the treasure hunt you want – and print out the pdf.  Cut out the squares, and fold along the dotted lines so that the clue is on the inside, the clue number is on the front, and the little clue for you about where to hide it is on the back.
I hope you and your children have fun with these!