Who Stole Mona Lisa?  by Ruthie Knapp, illustrated by Jill McElmurry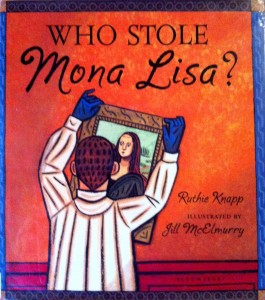 The Mona Lisa, the famous painting by Leonardo daVinci, narrates this picture book (which is based on historical information).
The story begins with the Mona Lisa hanging in the Louvre Museum in Paris, watching as a tour guide brings a group of people to look at the famous painting.  Readers learn that the painting was done by Leonardo daVinci, and that it took four years to paint.  The Mona Lisa tells a little about daVinci:  that he was a sculptor, architect, inventor, engineer, and painter – and that he loved animals.
The Mona Lisa was given to the French King Francois the First.  The painting stayed in France for a very long time, through many kings.  Eventually, Napoleon gave the painting to the Louvre Museum – where it became world famous, and attracted huge crowds of admirers, and a thief.
"One hot night in August, I heard footsteps.  The man with the mustache came…He measured me…Then he tiptoed away.  Early the next morning…The man with the mustache was back.  This time, he was wearing a white workman's smock.  He looked behind him, then he raised both hands and ripped me off the wall.  Ouch!"
When the museum discovered that the Mona Lisa was missing, they looked everywhere.  Police detectives searched all over Paris.  The museum posted a reward for the painting's safe return.
The man with the mustache loved looking at the Mona Lisa.  He kept the painting for two years.  He hid the Mona Lisa under his stove when he thought police were searching nearby.  When the man with the mustache took the painting to Italy and tried to sell it, he was captured – and the Mona Lisa was returned to Paris.
The Mona Lisa says she is glad to be back in the Louvre Museum, watching people and smiling her special smile.
"But mine is a knowing smile.  It has stored secrets for more than 500 years.  The secrets of artists and kings, a hot night in August, and a mustache.  It is a smile that knows many secrets, but now so do you."
This is an interesting presentation of the Mona Lisa's story.  Young listeners will enjoy the story and the colorful illustrations.  There is an author's note at the end, with more information about daVinci, the Mona Lisa, and the 1911 theft of the painting.