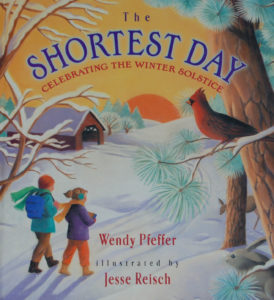 The Shortest Day - Celebrating the Winter Solstice by Wendy Pfeffer, illustrated by Jesse Reisch
Why does it get dark earlier at night in Winter than in Summer?  What is Solstice?  Pfeffer addresses these questions and others in this colorful book about the Winter Solstice.
In the Northern Hemisphere, near December 21, the sun reaches its lowest point on the horizon - making that day the shortest day of the year, or the day with the least amount of daylight.
This day is called the Winter Solstice.  It marks the beginning of Winter.  Humans have recognized this time of the year for thousands of years.  Long, long ago people didn't know about the Earth's rotation, tilting, and orbit.  They just knew that they had less and less daylight.  Some thought evil spirits caused the sun to go away, and held ceremonies asking their gods to bring back the sun.  Later people discovered patterns in shadows, or in the sun's position on the horizon.  They celebrated the shortest day of the year because it meant the days of more light were returning.
Today people still celebrate at the beginning of winter by decorating their houses, lighting the darkness, gathering together, and exchanging gifts.

They no longer worry that the sun will disappear forever.  People know that days get colder when their part of the earth tilts away from the sun.

For more than 5,000 years, people have welcomed the Winter Solstice because it's a new beginning.
Pfeffer's text takes readers on a journey from early peoples fearing that the sun will disappear forever, through history to the ancient Egyptians, Chinese, and Romans, through England and Ireland of 1,000 years ago, to more recent times - with Sweden's St. Lucia's Day.
The book includes several pages with Solstice facts, information about the Earth's tilting as it orbits the sun (including Summer Solstice, Winter Solstice, Spring Equinox, and Autumn Equinox).  Activities include charting sunrise and sunset, measuring shadows, noting the position of the sun over the year, and a way to demonstrate the tilt of the Earth making seasons.
This is an excellent book for children in preschool through grade school -- with interesting illustrations, and factual information.