Understood Betsy by Dorothy Canfield Fisher, illlustrations by Kimberly Bulcken Root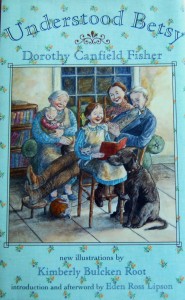 When readers first meet the main character, they see a timid, worried Elizabeth Ann, who lives with her Aunt Harriet and Aunt Frances in a city.  Elizabeth Ann is in the third grade at the big, local school.  Aunt Frances devotes herself to taking care of, protecting, explaining, and understanding Elizabeth Ann – and passes on all of her own fears to the young girl in the process.
Things change suddenly for Elizabeth Ann when Aunt Harriet becomes terribly ill with pneumonia, and Elizabeth Ann is sent away to stay with other relatives.  As the next set of relatives have just contracted a different illness, and don't really want her anyway, Elizabeth Ann is sent to the Putney cousins.  Aunt Frances has told Elizabeth Ann about them – they live in Vermont, are horrible, and make children do chores.
When Uncle Henry meets Elizabeth Ann at the train station in Vermont, he calls her Betsy, wraps her in a warm shawl, and asks her to drive the team of horses for him while he does some figuring (math) on a scrap of paper.  Elizabeth Ann has never driven horses before, but the job keeps her mind busy and distracts her from feeling frightened.  The reader gets the feeling that Uncle Henry is watching, and would step in if there were any real danger – and that the horses know the way home on their own.
The Putney cousins – elderly Uncle Henry and Aunt Abigail, and their grown-up daughter, Cousin Ann – welcome Betsy into their home in their own way.  Soon Betsy has her own kitten to take care of, is walking to the little school on her own, is helping make applesauce, and discovers that she really isn't afraid of dogs.
At the one-room school, Betsy is confused when the teacher puts her in different levels for different subjects (unheard of in her former school) based on Betsy's abilities – seventh grade for reading, third grade spelling, and second grade math – but that is one of the many different things about her new school, and her new life.  The teacher asks Betsy to help a younger girl, Molly, with her reading – which is another new experience for Betsy – helping a younger child – and makes Betsy feel good about herself.
Betsy grows to love the Putneys, her new home, and her new life.  Young Molly comes to live at Putney Farm, too, when circumstances make it necessary for Molly to find a new home.  Betsy grows in confidence, and is able to take care of herself, and Molly, when neighbors accidentally leave them at a Fair (think state fair, with livestock judging, food booths, games, and rides) many miles from home.  Betsy has grown healthier, more independent, and happier than she was in the city as Elizabeth Ann.
This book was first published in 1917, and has a few old-timey aspects:  the author steps in as narrator in the first few pages as we meet Elizabeth Ann, but disappears as Betsy lives at Putney Farm.  My children find the few pages of Elizabeth Ann living in the city a little less than thrilling, but really enjoy the story once Betsy leaves Aunt Frances and heads for Vermont (change happens in the first chapter).
The Dorothy Canfield Fisher Children's Book Award has honored children's literature for over 50 years – students in the 4th – 8th grades in Vermont vote to determine the winning books.  To learn more about this award:  https://sites.google.com/a/cesuvt.org/dcf-award/
More about the author, Dorothy Canfield Fisher:
Named by Eleanor Roosevelt as one of the ten most influential women in the United States, Dorothy Canfield Fisher (1879-1958), brought the Montessori Method of child rearing to America, presided over the country's first adult education program, and influenced American literary tastes as a member of the Book-of-the-Month Club selection committee from 1926 to 1951. A committed educational reformer and social activists, the popular Arlington, Vermont, writer produced 22 works of fiction and 18 nonfiction books on a wide range of subjects.*
* from biographical information at:  https://sites.google.com/a/cesuvt.org/dcf-award/