Anatole by Eve Titus, illustrated by Paul Galdone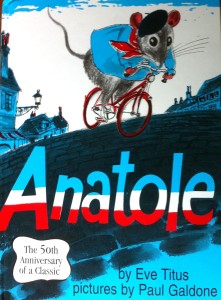 Anatole is a happy mouse who lives with his wife and children in a mouse village not far from Paris.  Each evening, mice from the village travel to Paris (by bicycle) to human homes to get food.
One night, while he is in a house finding food, Anatole overhears humans talking about how horrible mice are – dirty thieves who take food and cause nibbled food to be thrown out.  Anatole is deeply upset by this.  His good friend tells him that is just the way things are – that humans are humans and mice are mice – and not to let it bother him.
"But I never dreamed they regarded us this way," cried the unhappy Anatole.  "It is horrible to feel scorned and unwanted!  Where is my self-respect?  My pride?  MY HONOR?"
Anatole's wife understands his shock, and wishes there was a way to give the humans something in return for the food — which gives Anatole an idea.
The next night, instead of raiding houses like the other mice, Anatole goes to the Duval Cheese Factory, and finds his way to the Cheese Tasting Room.  He spends a long time there, carefully tasting each cheese and leaving little signs saying if the cheese is good – or if not what would improve it.  Finally, feeling that he has done honorable work, Anatole takes some cheese home to his family.
The next day, the humans in the cheese factory are surprised by the notes, but realize that this Anatole is correct in his judgements of the cheese.  They try his advice in making cheese.  Every night Anatole goes to work tasting cheese and leaving his opinions.  The humans want to know who is helping them, and leave a note asking to meet him.  Anatole replies that he prefers to remain unknown.  Eventually, the humans leave another note – proclaiming Anatole 'First Vice-President in Charge of Cheese-Tasting' and offering him as much cheese (and French Bread, and pastries) as he would like, whenever he would like.
And so, Anatole continues working at the cheese factory – an honorable profession – and becomes "the happiest, most contented mouse in all France."
This is a sweet, slightly old fashioned book, written in 1956.  The illustrations are black and white – and red and blue.  Who knows, it could lead to interesting discussions with children on honor, or on working for something.