International Dot Day – September 15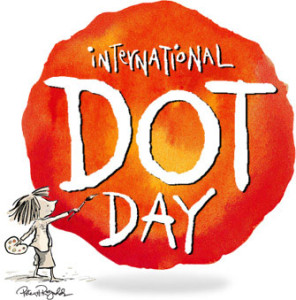 Today is International Dot Day, "a global celebration of creativity, courage and collaboration."  This creative celebration was inspired by the book, The Dot, by Peter H. Reynolds.
A teacher's guide, some videos, Celibri-dots blog (dot images by authors, illustrators, and other famous folks), and a gallery of images of creative projects folks have done in the past to celebrate International Dot Day.  To learn more about International Dot Day, or to find ideas for activities, visit the website:  http://www.thedotclub.org/dotday/get-started
Bookworm Bear loves Peter H. Reynolds books.  We've reviewed The Dot and Ish here – they are well worth looking for at local libraries and bookstores.